Poseidon2 4002 can connect up to 40 sensors (16 via 1-Wire UNI/1-Wire + 24 via RS-485), provides 12 digital dry contact inputs (DI), 8 virtual digital outputs and allows control of 4 relay outputs (NO/NC).
A built-in web server is used for configuring. The device can be monitored remotely over the internet using the SensDesk Technology portal in combination with the SensDesk Mobile application for iOS and Android. It works with HWg-PDMS and HWg-Trigger.
Poseidon2 devices are designed to monitor and control sensors and digital I/O over the network using secure M2M protocols (HTTPs, IPv6, SNMPv3). With support for over 50 SNMP and SCADA applications, Poseidon2 devices can be integrated in a wide range of monitoring and control systems. MQTT protocol enables integration in IoT solutions.
Poseidon2 4002 has a 5-year warranty.
Features:
16x 1-Wire UNI/1-Wire Input; 24x RS-485 Input; 12x Digital Input; Data Logger for more than 250.000 records; Digital Inputs feature 32-bit S0 pulse counters that retain their value even if the power fails
4x Relay Output NO/NC; 8x Virtual Digital Output
5x SNMP Trap; 5x E-mail; 5x "SMS+Ring" (via external GSM gateway or modem)
MQTT compatibility allows connecting to IoT Hub, MS Azure, Bluemix Internet of Things and other cloud services.
Connected via LAN. Configuration via built-in web server.
A sensor value out of a set safe range as well as a DI state change sends an alert by e-mail, SMS, SNMP Trap, or activates a remote relay at another Poseidon2 of Damocles2 unit.
For Ring or SMS alarm use the HWg-Trigger software (external GSM modem required), or a HWg-SMS-GW3 gateway in the same LAN.
Virtual Digital Outputs (VDO) can be mapped to physical digital outputs (relays) of other Poseidon2 or Damocles2 units on the same LAN.
With the HWg-PDMS software, S0 pulses can be converted to cost per time period and exported to MS Excel.
Compatible with a range of third party SW (SCADA etc.). Examples for programmers on using the product are available in the HWg-SDK (Borland C++, MS Visual, VB, C#, PHP, JAVA and more).
Applications and usage:
Server room environment monitoring

Remote environmental monitoring in a cabinet or in a datacenter

Air-conditioning monitoring

UPS / backup generator monitoring

Industrial applications

Cooler and freezer monitoring + alarm indication

Temperature and other measurements in a cloud

Surveillance systems

Smart buildings
---

Poseidon2: Solution for Industrial Internet of Things
Data transfer via Ethernet
Quick view of current data on SensDesk web portal
Sending data by e-mail, custom sw or cloud third-party applications
Use standard protocols HTTPs, IPv6, SNMPv3, MQTT
Poseidon2 and Damocles2 have a physical interface to classic Ethernet and represent the universal Internet of Things (IIoT) solutions. Thanks to the Ethernet interface, it is possible to transfer from the device not only current values but also data, stored in the device buffer.
The data can be transmitted via the HWg-Push protocol to the SensDesk public portal, HWg-PDMS software or 3rd party systems using the MQTT IO protocol. Data can also be emailed to PDMS, and the software will download it from the POP3 POP3 mailbox or its secured POP3S variant.
The Sensesk IoT portal provides quick previews of current values on the mobile phone as well, or it can display graphs of measured values up to 3 months back. It also includes the ability to set alarm messages via e-mail or SMS (with own HWg-SMS-GW3 gateway) in a cloud-like web page.
IoT PDMS software allows to collect all measured data and convert it to Excel format. It can then perform its own analysis. Excel reports from PDMS can be used to document environmental values for control bodies, for example, in pharmacies and food industry.
IoT protocol MQTT is another option to connect Poseidon2 and Damocles2 to IoT portals such as MS Azure and others. Thanks to this, you can combine data from HW group units in one cloud (portal) with third-party devices.

Poseidon2 4002: a complete system for environment monitoring in a rack or data center.
The Poseidon solution monitors a 19" rack or an entire server room. 42 sensors are supported (temperature, humidity, smoke, flood, electricity supply status or failure, entry to the room, digital inputs).The 4002 model can be mounted as a 1U device, or outside of the 42U space.
The Poseidon 4002 monitoring system fits into a 19" rack and is SNMP compatible. Two monitoring applications (PD Trigger and HWg-PDMS) are included free of charge.
Alerting to critical situations is performed by e-mail, SNMP Traps, SMS (GSM modem required) and output relays. The relays can be used, for example, to switch on a backup air-conditioning unit or to restart a server.
Information about PoE compatibility
Our products comply with the standard IEEE 802.3af.
The standard IEEE 802.3af and subsequent IEEE 802.3at do not cover all real parameters for power over ethernet. For example, current limiters and protections that protect your device from damage (necessary for backward compatibility with non-PoE devices or to protect your PSE from overload).
As a result, some PSE is more or less sensitive to PD in power-up.
Our recommendation is to test it before using it. If you find any incompatible device, we would be happy if you let us know (Model/SN/firmware/manufacturer).
Current HW group products are PoE PD Class 0.
We are also working on an improvement to meet Class 1 or Class 2 (resulting in lower reserved power in PSE). But because of known issues with compatibility, it's still under development now.
HW group collects all reports you kindly provide us about PSE and continually improves product compatibility.
*PSE = Power Supply Equipment, PD = Powered Device
---
Recommended products
SMS-GW3 LTE is a LAN gateway for sending alarm SMS from HW group devices.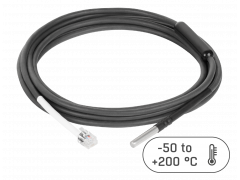 High precision temperature sensor -50 °C to +200 °C - ideal temperature sensor for storages, food processing, freezers, medical and laboratory environments,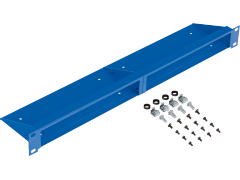 Rack Shelf 1U is a versatile solution for mounting HW group devices to 1U shelves easily.