HWg-STE can connect up to two sensors via 1-Wire and up to two detectors via digital inputs for dry contacts.
A built-in web server is used for configuring. The device can be monitored remotely over the internet using the free SensDesk portal in combination with the SensDesk Mobile application for iOS and Android. It is supplied with temperature probe, power adaptor and free HWg-PDMS software to create graphs and export data to MS Excel.
HWg-STE is a device with SNMP support designated for measuring temperature and humidity from external sensors, with the option of connection to the internet via Ethernet. In case the permitted range of values is exceeded, HWg-STE sends an alarm via e-mail or via the SensDesk portal.
Features:
2x 1-Wire Input for Sensors; 2x Digital Input for Detectors
2x E-mail alert
M2M communication protocols: SNMP, XML, HWg-Push
Connected via LAN. Configuration via built-in web server.
NMS connectivity (SNMP MIB); simple installation; supports DHCP.
A sensor value out of a set safe range as well as a DI state change sends an alert by e-mail.
Support for TLS authentication (Gmail)
With the HWg-PDMS software, logged data can be exported to MS Excel.
Compatible with a range of third party SW. Examples for programmers on using the product are available in the HWg-SDK (Borland C++, MS Visual, VB, C#, PHP, JAVA and more).
Applications and usage:
A/C failure monitoring
Environment and door monitoring over SNMP
Cooler/freezer monitoring
Equipment and premises monitoring
Food storage
Remote monitoring of 19" racks
IP thermometer HWg-STE plus is placed in the cabinet
Temperature and humidity monitoring inside a rack
SNMP monitoring
Sends an e-mail whenever the door opens (to monitor access).

Second digital input can be used for other detectors:

Smoke (fire) detector
Rear door monitoring
Water flood detector
Power failure detector
and so on...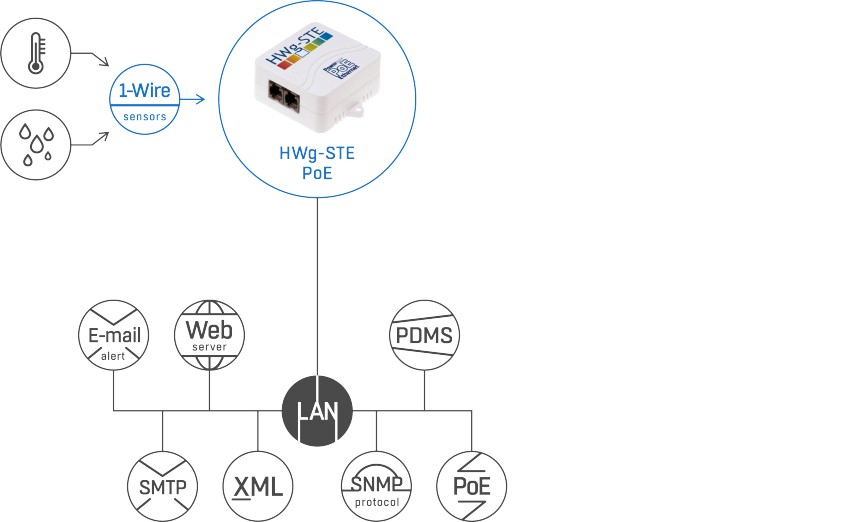 Several temperature sensors on a single screen – SensDesk.com portal
Two HWg-STE plus thermometers are connected to the www.SensDesk.com online portal.
Nothing to configure, simply connect HWg-STE plus to the network and enable online connection to your account.
SensDesk.com alerts you whenever a value is out of specified range, a probe is disconnected, or the Internet connection of your web thermometer fails.
All sensors connected to your user account can be displayed on a single tablet or phone screen in a mobile app for iOS (iPhone, iPad) and Android devices.