WLD2 is a WiFi / Ethernet water leak detector with support for WWW, SNMP, e-mails, and PoE. Alarms are triggered by even the smallest volumes of liquids that touch the WLD sensing cable anywhere along the entire length of the cable, such as condensation from A/C pipes or water leaks in general. You will receive alarms before costly damages occur. In addition to water alerts, the device also detects disconnected or damaged sensing cables for increased reliability.
WLD2 supports zone creation, 4 WLD zone inputs for external WLD detecting cables can be connected to the WLD2 to help locate the leak more accurately. A different phone number can be called for each zone.
Thanks to WiFi connectivity, the WLD2 water leak detector can be installed in remote places. In case of flooding, it can send an alert via e-mail, SNMP trap, or the SensDesk cloud. With an external SMS gateway by HW group, it can send a text message or dial a phone number. Of course, in critical applications, it can also communicate via wired Ethernet and can be powered with PoE.
WLD2 can be connected to the SensDesk portal, as well as to standard monitoring systems thanks to SNMP and SNMP Trap support. Water occurrence can be also signaled by switching a remote output (e.g. to start a siren) over the network (Box-2-Box mode with a Poseidon2 or Damocles2 unit), independently for each sensing cable. SensDesk Technology completes the HWg monitoring Ecosystem (sensors + devices + SensDesk Technology portal) and gets you long-term reliable alerts, graphs, PDF reports, open API, remote device management, etc.
The right Water Detection and early alert are essential in a lot of businesses, for example, data centers, etc. Water Leak Detection System from HW group is a complex solution developed to protect your facility against costly water damage that might threaten you.
>> Read the article about Water Leak Detection (WLD) System.
Features:
Intuitive WWW interface for fast and easy installation.
Support for automatic network configuration via DHCP.
Ability to communicate over WiFi (external antenna for extended range, support for 2.4GHz, 2.11 b/g/n) and Ethernet at the same time.
Up to 4 detection zones (each max. 185m), the source of the leak can be identified more easily.
WLD2 signals the following states: OK / Flooded / Sensing cable fault.
Flooding alerts can be send as a standard e-mail, or as a text message (SMS) through a SMS gateway.
Detected leaks or WLD sensing cable disconnections can be signaled by activating a relay output at a Poseidon2 or Damocles2 unit over the Ethernet.
WLD2 can be easily mounted on a wall or in a 19" cabinet.
Powered over PoE or from an external adapter.
Applications and usage:
• Water detection under raised floors.
• Leaky pipe detection (cable wrapped along the pipe).
• Protection against floods from skylights – sensing cable routed along the walls.
• Detection of water leaks in drip trays.
• Detection of water leaks under air-conditioning outlets.
WLD sensing cable
WLD sensing cable detects liquid along the entire length of the sensing cable. Even a few drops of water, ethylene glycol, or other conductive liquid trigger the alarm. WLD sensing cable is re-usable (cable can be cleaned, dried & used again).
WLD sensing cable features
No Bend limit: WLD sensing cable is not limited by any bending radius.
No Twist limit: WLD sensing cable can be twisted as any other electrical cable.
No Grip limit: Water detection functionality is not limited by point pressure within a reasonable range.
No Cable detection: Damaged or disconnected WLD sensing cable is indicated.
WLD cable components
WLD sensing cable is supplied in length from 2m to 50m and can be extended by non-sensing WLD prolong cable.
WLD2 installation and creation of zones
easy and fast installation thanks to an intuitive web interface; support for automatic network configuration via DHCP
supports creating up to 4 WLD zones so that the source of the leak can be identified more easily
each zone can be up to 185 m long
WLD2 communication and alerting possibilities


Why is Water Leak Detection system better than Flood detector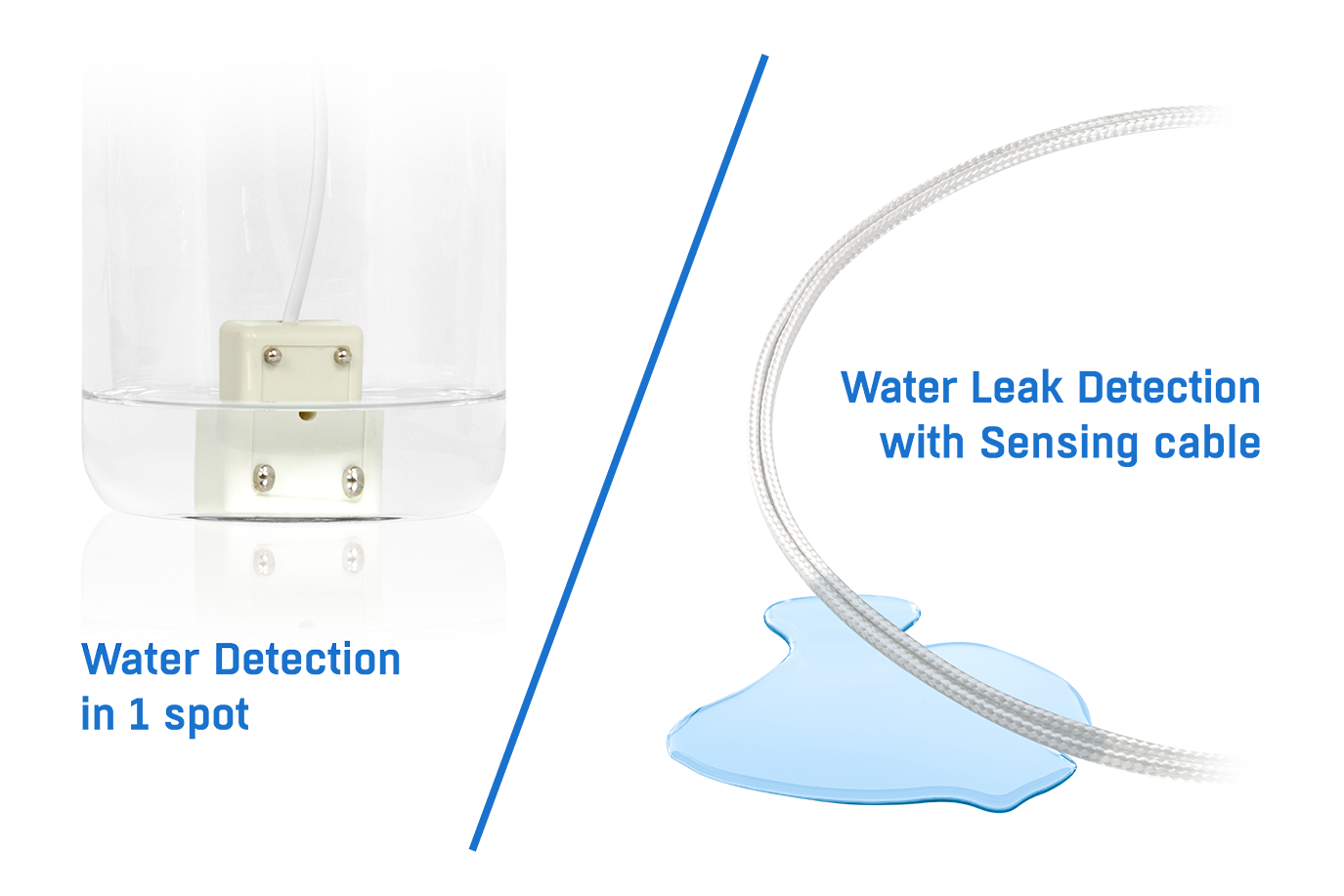 Water Leak Detection with the sensing cable is more expensive than simple spot water detection. However, WLD provides a much faster reaction to any water in the room. Thanks to the early alert significant damages to IT or other infrastructure can be avoided. Water Leak Detection with sensing cable is recommended in IT, data centers, technology, the medical sector, or anywhere else, where any water damage would be highly expensive.
Proper Water Leak Detection with a sensing cable helps you avoid costly damages thanks to an early alert that is triggered by the first few drops of liquid. Learn more about the difference between the WLD system with sensing cable and water spot detection in the application note.
>> Water Detection: Sensing cable versus Flood sensor
Compare Water Leak Detection devices
HWg Video Flyer about WLD2 device
HWg Video about Water Leak Detection system and it's components