The NB-2xOut device features two latching relay outputs that can be easily controlled using the remote portal (HWg-cloud.com or other SensDesk technology based portal). Each output can be controlled manually from the portal web interface or based on events (other devices/sensors alarms). 
The The NB-2xOut device is powered by an internal battery (up to 3 years of lifetime) or external power supply. The portal can be used for remote device management (FW updates, configuration, ...). .
Features:
NB-IoT connectivity
2x DO (Digital Output) - latching relay
External 5V DC power
Internal battery with up to 3 years lifetime
Simple installation, remote device adoption
Secure and reliable
Easy setup with a few clicks
Metal housing, DIN and rack mount available
Applications and usage:
Manual or automated control of appliances and customer's equipment
Heating control (thermostat mode) 
Pumping water into a tank if the level drops
Lighting up warning lights or sounding a warning horn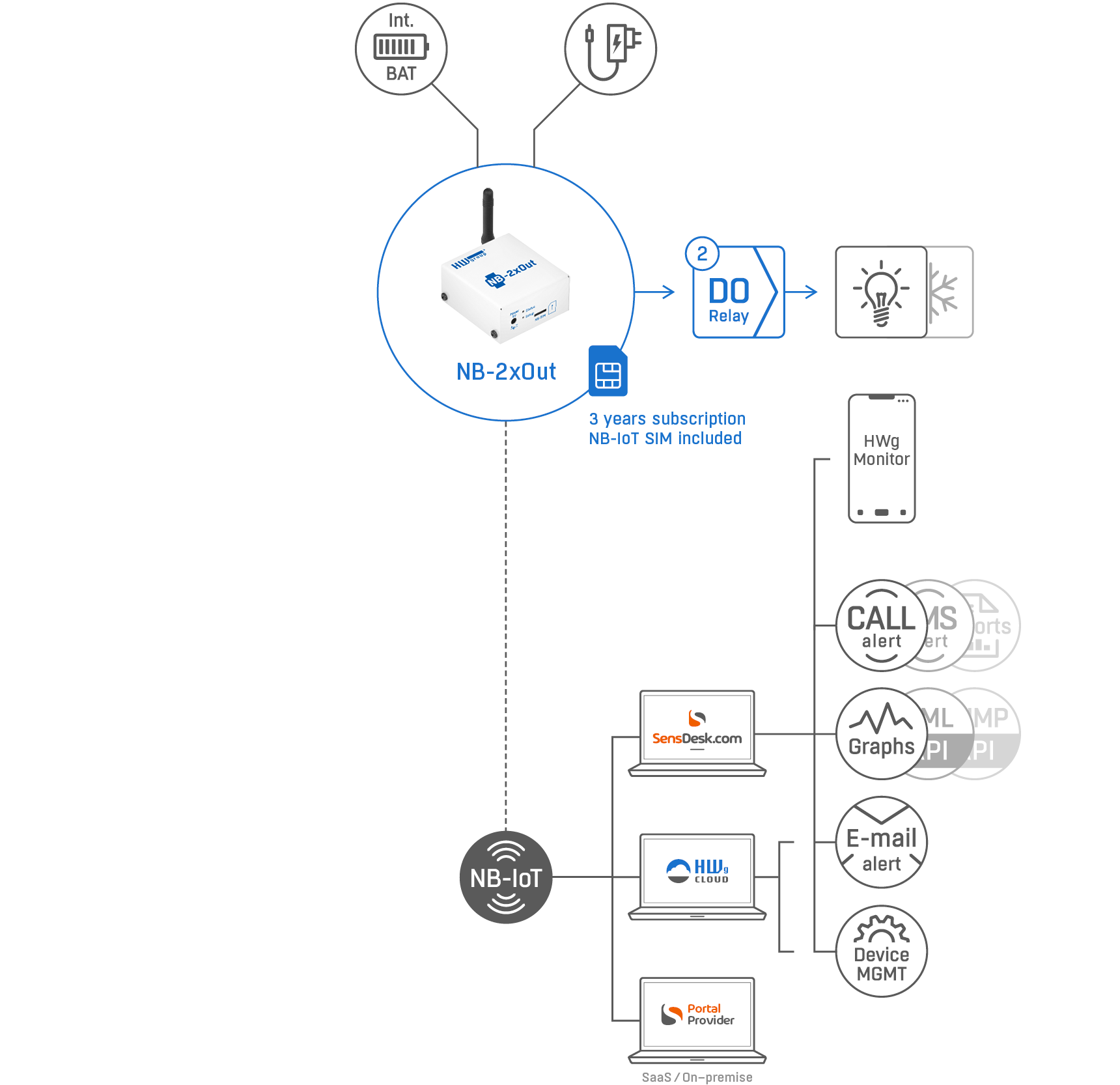 Subscribed device (delivered with prepaid NB-IoT SIM card)
Default version of this product is called "subscribed". It's delivered with 3 years prepaid NB IoT SIM card included by HW group. Connectivity is provided by Vodafone, device can be in used in most of the countries. Remote device management and sensors monitoring is available via SensDesk service. Contact us for details.

3rd party SIM card for NB-IoT
You can use your own sim card for NB-IoT network (not LTE) connectivity. Data can be delivered to your own hosted installation of the SensDesk portal. It's recommended for projects 100+ devices..
Contact us for details.
SensDesk Technology portal is required
The SensDesk Technology is a portal solution from the HW group to manage remote sensors and devices (only for HW group products). Portals offer a central overview of all the values and provide a variable combination of features like sending the alarms, reporting, history record, outputs into the Open API etc.
NB Device has to be connected to any SensDesk Technology-based portal (SaaS).
There are several Portal providers available, users can migrate the device between their portals.
The manufacturer provides a limited free portal (HWg-cloud.com) as the default pre-configured option.
Even the free & limited portal service (HWg-cloud.com) can send email alerts and offers basic remote device management.
One of the available portals is paid service www.SensDesk.com

Several subscription plan options
SMS / Voice call alerts to any mobile phone
Graphs / MultiGraphs (data history)
PDF reports
Email alerts/alarm escalation
Open API: All sensor values are available via XML / SNMP protocols